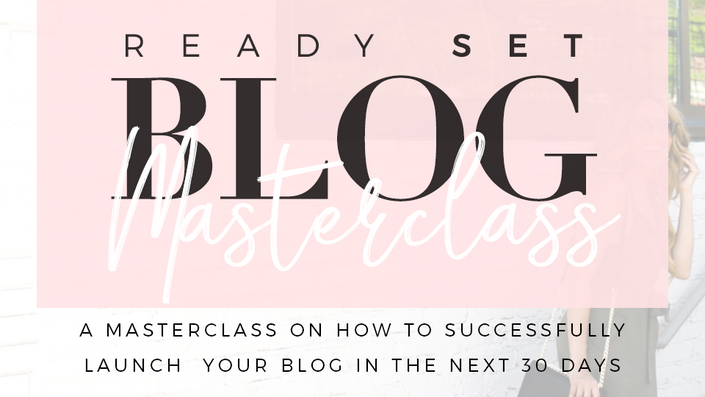 #ReadySetBlog
THE STEP-BY-STEP PROCESS FOR SUCCESSFULLY LAUNCHING YOUR BLOG IN THE NEXT 30 DAYS
SPOILER ALERT: You can.
And I know what you're thinking: No, your situation isn't different and yes, it can work for you.
---
HAVE YOU EVER FELT...
Hopeless because you do want to start a blog, but not sure where to start. You're not tech savvy or very familiar with social media. You're willing to do the work, but you don't even understand what the work really is.
Unsure in your abilities because you're not sure you have what it takes. You feel like no one will read your blog and your work will go in vain. You don't have many social media followers or an existing audience. You want this, but you believe it may not be for you.
You won't stay consistent because you don't have the time. You already have a full schedule and adding a blog would make things even more hectic. You're overwhelmed because you don't even know how you would fit blogging in your schedule.
Giving up because before you even start because you're scared that your blog will be a failure. You've tried to blog in the past, but you just couldn't stay consistent. You're just not convinced things will be different this time around.
Not moving forward because everyone seems to be blogging about your niche already. There are millions of blogs online, and making your new, little blog stand out seems impossible. While you know you should be optimistic, you also know to be realistic.
Does any of this sound like you? Good. Then this is the place for you.
You've looked everywhere online for what it really takes to start a blog and get things going. You have so many questions about blogging, and you've spent too much time trying to find helpful answers, without any luck.
When it comes to blogging, you cannot go in with a plan, process and strategy. It's about way more than an editorial calendar. It takes lots of work, even when you are just starting. But it doesn't have to be this painful, clueless situation. You can launch a blog successfully.

IMAGINE IF YOU COULD:
Make your content stand out as soon as you publish your first post. No more wondering who's going to read your blog. When launch day arrives, have people excited to check out what you have to offer.
Create a plan that allows you to produce posts consistently, even with your busy schedule. Your schedule works for you giving you the time you need to create quality standout content. You know the secret to getting a lot of content created in one sitting.
Create a visually appealing blog, even though you're not a designer. Take 1-2 hours max to give your blog the layout necessities that make your blog perform AND look good without breaking the bank (or getting a design degree!)
Build a growing and loyal audience that lives for your content from the start. No. Getting. Stagnant. From the minute you hit publish, your readership grows organically loving your content every single time you post.
Promote effectively without boring or bothering your readers. Spam won't be an issue at all. You'll promote your content driving constant traffic to your blog on a daily basis. And social media won't be your end all be all.
Finally launch this blog idea you've had for months. And no it won't take you months to do. In 30 days, you're clear on exactly what steps to take week by week. You launch successfully without any hangups because you're clear on what the goal of your blog is.
Yes. This daydream can be your reality.
Allow me to introduce you to your new best friend: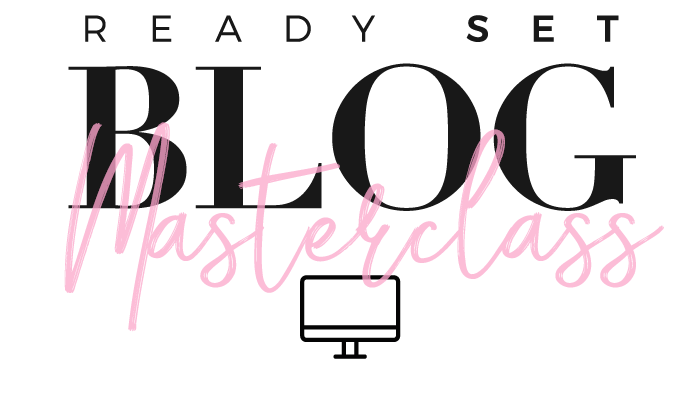 #READYSETBLOG IS THE MASTERCLASS THAT TEACHES BLOGGERS AND ENTREPRENEURS THE STEP-BY-STEP PROCESS FOR SUCCESSFULLY LAUNCHING A BLOG IN 30 DAYS.
As a blogger, I know what it's like to be overwhelmed by all the content ideas you have in the beginning but not knowing where to start. You feel like no one will read your blog. Or like you don't have enough time to create content. Or that you won't organize your ideas well enough to stay consistent.

A SOLID STRATEGY.

Many people think you need the perfect editorial calendar filled with blog ideas and deadlines to start a blog. But between me and you, that's only part of it. And it's why so many people fall short when they first start their blogs. You need a plan, a process and a strategy or as I like to call them the what, the how and the why.

IN #READYSETBLOG, I'LL SHOW YOU THE TRIED AND TRUE STRATEGIES FOR SETTING YOUR BLOG UP FOR SUCCESS THE MINUTE YOU LAUNCH IT IN THREE SIMPLE MODULES:
MODULE 1: THE PLAN
How to know which blogging platform is perfect for you

Deciding when to launch and exactly what that will look like on launch day


What your editorial calendar should look like for your entire first month
MODULE 2: THE PROCESS
Simple hacks to make your blog look like a pro designed it

The secret for creating tons of content in one sitting (and how to do it successfully)


How to schedule your content when you don't have much time (or a team)
MODULE 3: THE STRATEGY
How to guarantee your content is shareable and memorable every time

The number one mistake you're making when you promote your content


How to successfully grow traffic and stay consistent after your first 30 day

s
YOU CAN LEARN THE ACTUAL STEPS FOR SUCCESSFULLY LAUNCHING YOUR BLOG OR YOU CAN:

Spend your time searching the internet for outdated and inconsistent answers


Launch your blog without a strategy and hear nothing but crickets

Struggle to consistently produce content your audience actually wants to read

Use trial and error to build your blog audience at a painfully slow rate
THIS MASTERCLASS IS FOR YOU
IF YOU'RE READY TO:

+ Publish click-worthy content that stands out in the noisy and saturated blogosphere

+ Create a system that helps you consistently publish quality content your audience loves
+ Learn how to promote without the hang up of annoying your readers and followers

+ Create a well-designed blog that hooks your audience


+ Grow your readership from the minute you publish your first post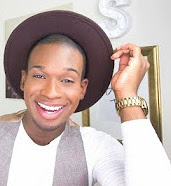 #ReadySetBlog is hands down the best blogging course I've ever taken to date. This course taught me how to really lay down the foundation for blogging and being consistent. I would highly encourage anyone who is serious about blogging to take #ReadySetBlog! In other words, it's a game changer!
- Sebastien Gaudin, TheGayBestie.com
ARE YOU READY TO LEARN THE STEP-BY-STEP PROCESS FOR SUCCESSFULLY LAUNCHING YOUR BLOG IN THE NEXT 30 DAYS?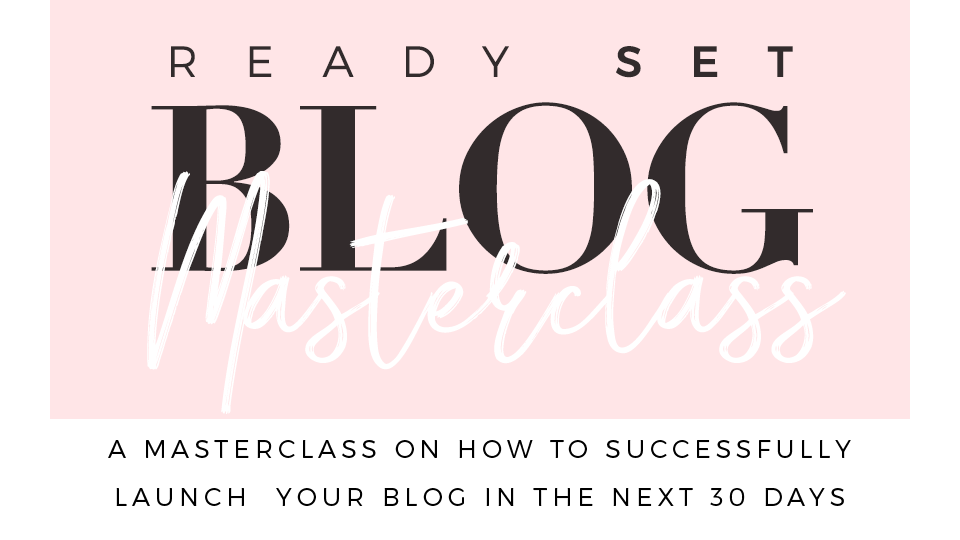 #READYSETBLOG GOES LIVE
THURSDAY, MAY 4TH AT 8P EST
Your Instructor
Mattie James is the influencer & entrepreneur behind Mattieologie.com. She started blogging in 2010 and would go on to work with major brands like H&M, Macy's, American Express, Cotton, ASOS, XFINITY & more via social media, content creation, in person events & brand campaigns.
In 2015, Mattie transitioned to blogging full time turning the Mattieologie brand into a lifestyle blog, 2 podcasts, a YouTube channel (represented by MODE Media), online courses & masterclasses and a shopping newsletter (MIMOSA).
She now teaches other content creators and wantrepreneurs how to create consistently, build their audience, pitch brands and transition out of their 9 to 5. You can learn more about all of Mattie's courses and masterclasses here.
Frequently Asked Questions
When does the #ReadySetBlog masterclass start and finish?
#ReadySetBlog starts Thursday, May 4th at 8p EST with lifetime access to the replay! It is a live online masterclass and the replay is the recording of the Google Hangout - you can attend live, watch the recording or both. It's up to you.
How long do I have access to #ReadySetBlog?
FOREVER! When you purchase #ReadySetBlog, you have lifetime access to the replay, workbook & the Q&A. I also keep the chat available to reference back to it, if need be. You have unlimited access to #ReadySetBlog for as long as you like - across any and all devices you own.
I haven't started my blog yet. Can I still take this masterclass? Will it help me?
#ReadySetBlog is the perfect masterclass for you if you're just started your blog. I walk you through how to start your blog, how to create your editorial calendar to stay consistent and the strategies to use when you publish and promote your content. This masterclass was designed to set you up for success the moment you start blogging to avoid the common mistakes.
I already have a blog but I just started. Can I use what you teach in #ReadySetBlog to help my blog?
Absolutely. While I cover how to get started, I touch on the secrets of creating an editorial calendar to consistently produce quality content. That's a valuable technique that every content creator - at any level - can use.
I've been blogging for a while but recently relaunched my blog or considering relaunching. How will #ReadySetBlog help me?
Excellent question. Many times when we relaunch, the issue is because our blog was dated, we weren't consistent or what we weren't driving traffic. #ReadySetBlog addresses both of those issues head on. We tackle both a schedule for producing AND promoting which is key for blog success and what you'll learn in #ReadySetBlog.
What's your refund policy?
I certainly don't want you to be unhappy with the course. Like any of my classes, courses or webinars, the class only works if you do. After 7 days of purchase, if what you apply from #ReadySetBlog doesn't warrant any results, I will grant you a full refund. Other than that, no exceptions. No matter what.