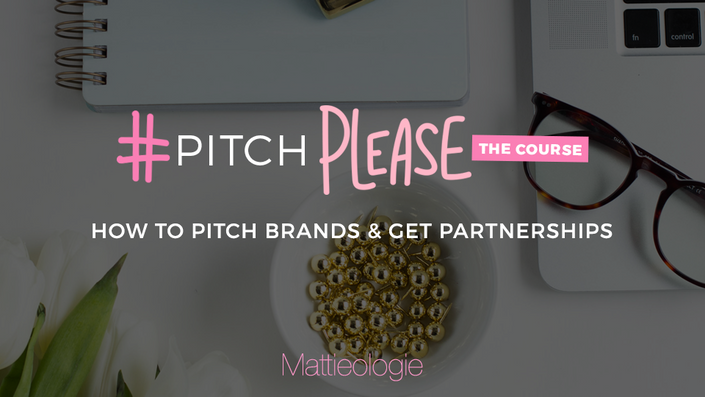 #PitchPlease: The Course
The Course For Successfully Pitching Brands & Getting Paid Partnerships

You're tired of sending pitches to brands only to wait forever for... no response. You're frustrated because you have no idea what you're doing wrong. You wonder if you're even contacting the right people.
You wonder what it really takes to get a response from a brand, let alone a "yes" to a collab.

How to personalize your pitch so brands were immediately interested in working with you?
The specific information to include in your press kit to attract the collaborations that you truly want?
How to find the most up-to-date emails for the RIGHT contacts at each brand?
The difference between a pitch, press kit, and a pitch deck—and the appropriate times to send each?
#PitchPlease teaches you how to do all of the above plus MUCH more.
---


As a blogger, I've worked with household name brands like Macy's, GAP, H&M, Wendy's, JCPenney & more over the last 2 years. More importantly, I have relationships with the brands and agencies I've worked with because of the correspondence and pitches I've sent them. Because I'm a genius? No. Because I figured out exactly how to narrow down the exact value I provide to brands and pitch it to them seamlessly.
Just because you have a press/media kit, doesn't mean that brands will be impressed by you.

In #PitchPlease, I'll show you the real strategies and steps for increasing your chances of getting a "yes" from brands when you pitch them:

Preparing & Providing Proof
The 3 types of content you must create for brands to trust you
The numbers that brands actually care about and which numbers you must include in every pitch
The number one thing that brands look for that's more important than your followers or impressions
The go-to source for finding the RIGHT contact emails for brands
The most important question you're not asking yourself before you pitch brands
How to prove your value to brands so they come back for more

Pitching

How to introduce yourself so brands are instantly interested in what you have to offer
The ONLY appropriate time to send a pitch deck
The best ways to design and deliver your pitch deck
How to get instant access to brands and do it successfully
The vital step you must include in your emails to take your pitch to the next level

Pricing
What you must do to make asking for the fee you desire less scary
How to negotiate successfully and get the price that you actually want
The most common overlooked part of pitching that single-handedly doubles your pay
The one thing that most people are afraid to do but pays off BIG in the end

All of the email templates I use—word for word—to pitch brands successfully.
The First Paid Kit: The kit that shows you the step-by-step process for getting paid for your content on each social media platform.
Deck CPR: The guide on how to create awesome pitch decks including everything from correspondence, process & rate.
---

If you're OK with struggling to figure out what you need to do to drastically increase your chances of brands accepting and paying for your pitches, this course isn't for you.
This course is for you if you're ready to:
Create personalized pitches that impress brands and make them excited to work with you
Learn what information is REALLY necessary to land the brand partnerships that you actually want
Know how to find the most up-to-date emails for the true decision makers of each brand
Learn the differences between a pitch, press kit, and a pitch deck—and how to successfully create each to land collabs
Now you have a decision to make. Are you ready to finally learn the step-by-step process for landing the paid brand collaborations you've struggled to get for way too long?

Your Instructor
Mattie James is the influencer & entrepreneur behind Mattieologie.com. She started blogging in 2010 and would go on to work with major brands like H&M, Macy's, American Express, Cotton, ASOS, XFINITY & more via social media, content creation, in person events & brand campaigns.
In 2015, Mattie transitioned to blogging full time turning the Mattieologie brand into a lifestyle blog, 2 podcasts, a YouTube channel (represented by MODE Media), online courses & masterclasses and a shopping newsletter (MIMOSA).
She now teaches other content creators and wantrepreneurs how to create consistently, build their audience, pitch brands and transition out of their 9 to 5. You can learn more about all of Mattie's courses and masterclasses here.
Course Curriculum
Module One
Available in days
days after you enroll
Module Two
Available in days
days after you enroll
Module Three
Available in days
days after you enroll
Frequently Asked Questions
I'm pretty busy with a 9 to 5, school or taking care of the kids, so I don't have much time. When does #PitchPlease: The Course start and finish?
#PitchPlease the course starts Friday, July 1 and never ends! Because my students have various schedules, I've made it a completely self-paced online course - you decide when you start and when you finish. So if the weekends are better for you or maybe you prefer completing modules in the evening, your schedule is up to you! You have lifetime access to this exclusive #PitchPlease course bundle, its bonuses & worksheets.
Is there a deadline? How long do I have access to #PitchPlease?
Forever, for ever, ever, ever, ever. I know all of our schedules can get crazy, so it's important to me that you have this whenever you need it. After enrolling, you have unlimited access to #PitchPlease: The Course for as long as you like - across any and all devices you own.
Hey Mattie! #PitchPlease is a pretty big investment. Do you offer refunds?
Absolutely. If you take #PitchPlease: The Course, apply the techniques + strategies taught and get no results within 14 days of purchase, you will be granted you a full refund..
This course is closed for enrollment.